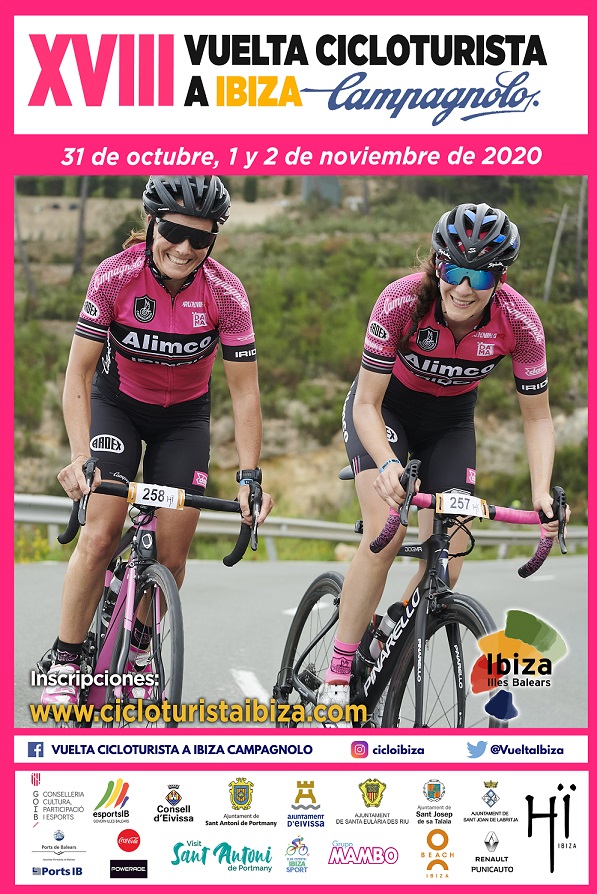 WELCOME TO IBIZA, WELCOME TO THE 2020 IBIZA CAMPAGNOLO CYCLING TOUR!!!
On 31 October and 1 & 2 November 2020, the island of Ibiza will once again become the epicentre of cycling tourism in Spain.
With the experience and confidence we have gained over the years and the thousands of cyclists who have taken part in our race, we are preparing a cycling-packed weekend, with delightful tours taking in spectacular scenery, stunning views, fine sandy beaches, and crystal clear water. The route will be running through the unique, breath-taking landscape of the MAGICAL ISLAND OF IBIZA.
The Ibiza Campagnolo Cycling Tour is a race in 3 stages and is a one-of-a-kind in Spain, offering the perfect combination of a real cycling tour and a small dose of competition.
The event will kick off on the afternoon of Saturday 31 October with a 4.4 km preliminary ride around the bay of Portmany, setting off from one of the island's most charming villages, Sant Agustí. This first stage of the cycling tour consists of a 40 km circular route with an accumulated altitude difference of 750 m. There will be one refreshment station situated in Cala Vadella, at kilometre 22. During the tour we will visit several picturesque villages, including Sant Agustí des Vedrà, Sant Josep de Sa Talaia, as well as beautiful beaches such as Cala Vadella.
On Sunday 1 November, the stage of the competition all the tour participants are waiting for will begin, the a 64 km race, the first stretch of which passes through San Rafael and Santa Ines, followed by a 14 km route between Santa Ines and San Mateo.
On Monday 2 November, the third stage will set off from Ibiza Town, designated a World Heritage Site by UNESCO. This stage covers 90 km overall and has an accumulated altitude difference of 1,400 m. There are three refreshment stops, at km 38.5 – Cala Boix, at km 55.6 in the village of Sant Josep de Labritja, and at km 70.4 in the village of Sant Miquel de Balansat. Two against-the-clock races will be held during this stage. The first will be a 4.5 km race at Cala de San Vicente, which has an altitude difference of 293 m, and the second is 1.5 km, in the Port of Sant Miquel, which has an altitude difference of 130 m.
Not wishing to leave out the competitors' companions, we have prepared a wide-ranging programme of activities for them, because their support is as equally important as that of the participants.
The Ibiza Campagnolo Cycling Tour is going to be an exciting and memorable event for all!!!
PRICES: